Welcome to England! Since I've been writing sudo British/English royal novels, I thought I'd take a look at English romance traditions.
I turned to the English women at Women's Alive Book Club for some help. Here's what they said…
"We don't feed each other cake at the reception. But Valentines! At school we could order red carnations to be sent with anonymous cards (written out by volunteers so the handwriting wouldn't be guessed). Pretty, popular people got dozens. I remember one girl needing a bucket to carry hers around! Our housemistress used to send one to every girl in the house in case anyone was left out, with the result that if you only got one, you knew it was the pity flower and didn't count." — Amy Robinson
"Speeches at the wedding reception – how many are there in the States? In the UK it's a huge thing, which I didn't quite realize the extent of until I got married and my husband and his best men took over with them!" — Amy Pye
"It's not part of the traditional ceremony to have the first kiss as a married couple in the church. It's not part of the wedding service. You have to ask the priest to say, "You may kiss the bride," if you want it. It's regarded it as a "Hollywood invention." We had our first kiss as we drove away in the wedding car." — Amy Robinson
"Brides get ready at home. I remember all the fuss about Lady Diana's dress getting crumpled in the carriage. I always thought it looked gorgeous anyway!
I do like the emotional impact of the girl walking out of the bedroom where she was a child, dressed in white ready to leave that family and home, and cleave to her new husband and home. Cinematically it works better for me to get ready at home than to make a mad flurry to get out of the house and to the church in time to get ready, still in your PJs, trying to remember everything you might possibly need, then dressing in some anonymous room designed for something else entirely… But I'm aware that I'm probably over-romanticising the former!"  — Jennie Pollock
"Then there's valentine's day. In the States it seems to be the done thing for kids to give a valentine's card to every child in their class – you can buy them in boxes. That just doesn't happen in the UK at all. We do that for Christmas. But Valentine's day is much more about giving a card secretly to your 'one true love' — which of course little kids do too. It's definitely about saying 'be mine', not just generally 'I love you.'" — Jennie Pollock
"With UK weddings, it's the bride who leads the wedding procession up the aisle, usually arm in arm with her father, with the bridesmaids following." — Phillippa Linton
***
William and Kate followed English cake traditions for their wedding. Excerpt from the National Post.
The first cake, a three tiered fruit cake is traditional to English weddings; the top tier is known as "the christening cake," which the couple will likely save in a tin to eat at the baptism of their first child.The second cake will be the "groom's cake," a less formal cake, a tradition that originated in the Tudor period but isn't often bothered with today.
Prince William has chosen a chocolate rich biscuit cake for his grooms cake. A simple unbaked cake of crushed McVities rich tea biscuits and dark chocolate. "It was once English custom for this [the groom's cake] to be a fruitcake as well." Buckingham palace has sent a special "secret" recipe to McVities that William used to enjoy at tea time as a child.
Another tradition? "Legend has it that if single females take a slice of the cake home and sleep with it under their pillow they will dream of their groom-to-be," says the Telegraph of the grooms cake.
A fruit cake is served at the wedding reception (or the "wedding breakfast") along with  the groom's cake.
***
Tidbits about the white wedding gown from Bridal Lore and Customs.
The white wedding dress was made popular by Anne of Brittany in 1499. Prior to that time and, in general, until the 1900s, a woman usually simply wore the best dress she had in her wardrobe.
In ancient times, the traditional color of bridal gowns would be red or some other bright color. However, green was avoided in the choice of a bridal gown since it was considered unlucky. It was also was considered that a woman who wore green on her wedding day was one of loose morals…her dress would be grass-stained from rolling around in the fields.
The choice of a white wedding gown increased in popularity when this color was chosen by Queen Victoria for her own ceremonies and thus, broke the tradition of royals marrying in silver. A common misconception, however, is that the white wedding dress is indicative of the purity of the bride-to-be. White has never truly been accorded as a symbol of chastity, being regarded more as a symbol of joy. (See "Wearing White" for additional information.)
Traditionally, the bride should never make her own dress and the final stitch should not be completed until she is departing for the church. In addition, it is considered unlucky for the bride to try on the entire outfit prior to the day (somewhat akin to the bride "counting her chickens").
For the same reason, a bride should never practice signing her new name until it is legally hers. In times gone by, wedding linen was always marked with the bride's maiden rather than married initials. In early Saxon times and even through the Eighteenth Century, the poorer bride attended her wedding dressed in a plain white robe. By nature of a public statement, this indicated that she brought nothing with her to the marriage and, therefore, her husband would not be responsible for her debts.
***
Hope you had fun with these English and ancient traditions. Thanks for stopping by. Do you have a tradition you'd like to share? Post below.
***
Now on to information about the Romance Around the World blog hop and giveaway….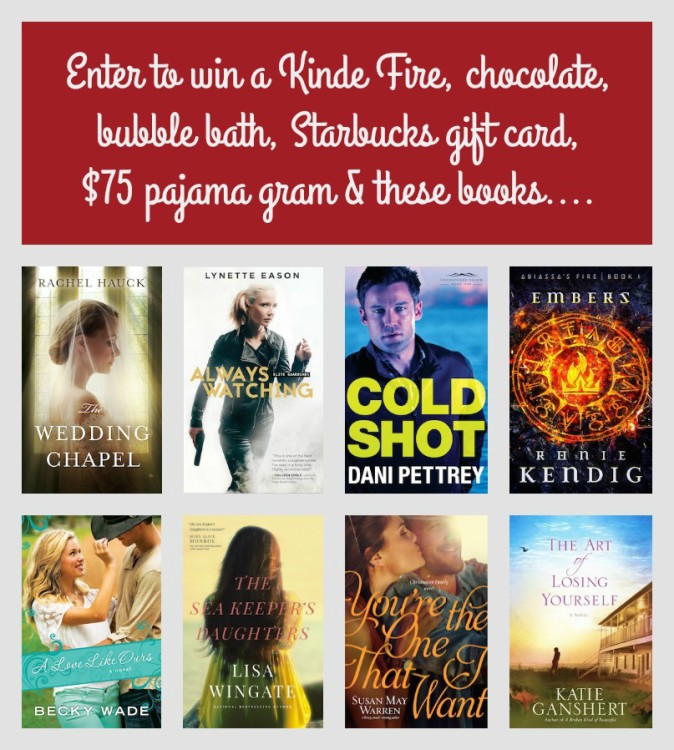 You can enter the main giveaway for a Kindle Fire, chocolate, bubble bath, Starbucks gift card, $75 pajama gram, and eight novels right here on this page via the entry box below. In order to enter, you'll simply need to agree to receive occasional e-newsletters from the participating authors.
We're also offering a side giveaway, open only to those of you who visit all four Romance Around the World blog posts throughout the week. You'll find the links to the blog posts below. At each stop, you'll be able to collect a few secret words. By the end of the week, you'll have accumulated a secret sentence that will qualify you to enter to win a $25 Amazon gift card, a literary mug, and a 'Reading is my Adventure' throw blanket at Rachel's blog on February 14th. So be sure to visit the following writers on the following days to read about romance around the world!
On February 8th, Dani Pettrey chatted about romance in Ireland here.
On February 10th, Susan May Warren blogged about romance in Russia here.
On February 12th, Becky Wade is blogging about romance in France here.
On February 14th, Rachel Hauck will chat about romance in England here.
My secret words are:  "But never doubt I love."  -from Hamlet by Shakespeare
Best of luck, everyone, and happy Valentine's Day!
a Rafflecopter giveaway
***
WAIT, THERE'S MORE!  
Some of our writing friends put together a gift basket for those who compiled the secret sentence! Ronie Kendig, Lisa Wingate, Lynette Eason… You won't want to miss this!